Creative Enterprises
Specialty Signs, Auto Graphics, Rock Designs
Welcome to Creative Enterprises, Albuquerque's leader in innovative graphic services.
If you need graphics for vehicles, tradeshows, or storefronts, we can help you.
If you need logo design, we can help you. Click here to see our logo portfolio.
If you need specialty signs, we can help you.
If you need custom landscaping work including fountains, rocks formations, and other innovative creations, we can REALLY help you. We are experts at creating BIG FAKE ROCKS.
We invite you to browse our website, see our work, and then contact us to get your project started.
Have you seen this vehicle?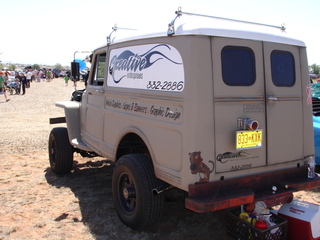 Did you take a picture?

If you did, that picture is worth a 15% discount on your next sign work with Creative Enterprises. . (By the way, discount NOT available if you took the picture of the vehicle at our home or office.)