Creative Enterprises Auto Graphics
Creative Enterprises is the official sticker-vinyl-banner sign shop of New Mexico Off Road League and Outlaw Desert Racing Series. Call for all your race stickers, numbers, and logos!

In addition, we do graphics for businesses and personal vehicles.

ATTENTION BUSINESS OWNERS!!

Do you know that mobile advertising is the most powerful advertising you can do?

It is simple and easy to do. Just add your contact information to the side of your vehicles and watch the calls start!

Think about itů Your vehicle serving your customers is one of the strongest messages you can send to new customers. It says you are in business and providing a service in a professional manner.

In addition, it puts your advertising message in front of people similar to your current customers.

Learn more about the benefits of mobile advertising by clicking here.

Contact Creative Enterprises today to design a customized message for your vehicle. Use the pictures below to get an idea of what we can do for you. Click on each picture to see the full size image.
Have you seen this vehicle?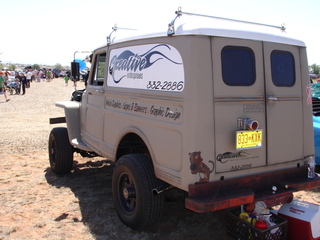 Did you take a picture?

If you did, that picture is worth a 15% discount on your next sign work with Creative Enterprises. (By the way, discount NOT available if you took the picture of the vehicle at our home or office.)