About Creative Enterprises
George and Stephanie James are childhood friends who reunited after college when they both had graphics jobs for the City of Albuquerque.

Now, they are co-owners of Creative Enterprises. Theirs is a 24 hour a day, 7 day a week, 365 days a year relationship. They live, work, and play together… and they love it!

Would you expect less from a couple who married on Halloween after planning, designing, and re-doing a barn for the occasion?

Each has a degree in graphics design (George's is from Colorado Institute of Art. Stephanie's is from New Mexico State University.)

Each also has extensive graphic design experience.

George collaborated on many of the rock formations in the exhibits at the Albuquerque Aquarium and the Rio Grande Zoo. Stephanie painted many of the signs at the Rio Grande Zoo and designed several of the first New Mexico Lottery tickets.

Put their expertise and experience to work for you. The first step is using the contact information in this website to set an appointment.
Have you seen this vehicle?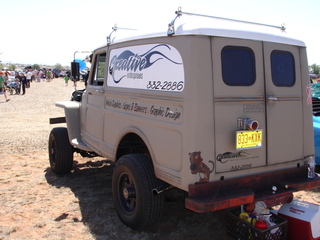 Did you take a picture?

If you did, that picture is worth a 15% discount on your next sign work with Creative Enterprises. (By the way, discount NOT available if you took the picture of the vehicle at our home or office.)